(in progress)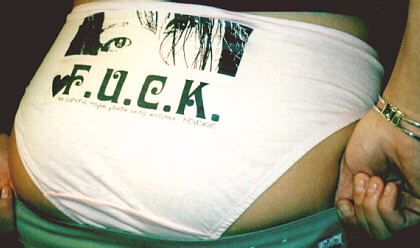 Here, Valerie models "F.U.C.K.", the first ever, *ahem*, Revenge panties...

We came home from the store with a pair of pink panties, and the process was quite simple, really. Evan took an image he'd made on the computer and ironed it on the back. The image says "F.U.C.K.: be careful, maybe you're being watched!"

He then applied glitter paint to the eyes of the girl in the picture. On the front, we took a fabric marker and wrote "I will break yr heart". Pretty quick and simple creation, really.

By the way... the last picture contains a sneak preview of an in-progess shirt... !!