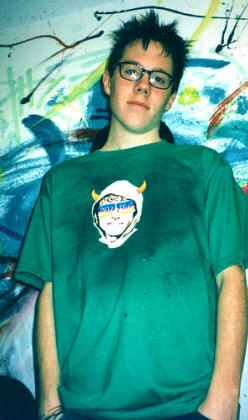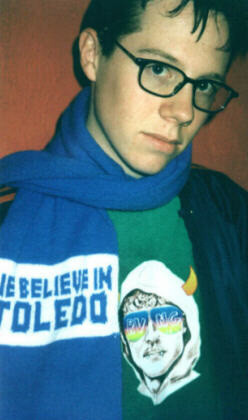 Here, Nick models "Make Love, Not Bombs".

Perhaps the making of this shirt was bad timing, with the W.T.C. terrorist attacks and the mail-carried anthrax attacks, but it was an idea that had been stewing since before Sept 11th.

Evan sprayed black fabric paint into the front of the shirt, first, followed by applying an iron on image he'd made on his computer. After that, he applied glitter to the sunglasses. The writing on the back says "Revenge 2001: a fashion disaster waiting to happen."

At the bottom right, you'll see a pic of Evan modeling the second version of the shirt. It differs from the original in that it is sparkly all over (and not just on the shades), it's red, and it has less black paint behind the image.